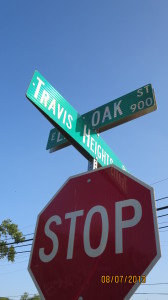 It is hard to believe Travis Heights in the early 20th century was considered outside of town. At the time the big river (now lady Bird Lake) was difficult and dangerous to cross and it created a natural barrier to growth. As technology and transportation improved this little neighborhood began to grow. Now Travis Heights is practically considered downtown. Between its early 1900's houses to its beautiful old oaks, Travis Heights is largely considered one of the most coveted neighborhoods in Austin.
Travis Heights Real Estate
Travis Heights is one of the most sought after neighborhoods in Austin. Getting the Travis Heights house of your dreams takes a smart, experienced agent and strong strategy. Contact our office today and let us help you achieve your Travis Heights real estate dream.
Travis Heights Real Estate Facts
Home Values:
Below $100,000:
7%
$100,000 To $150,000:
3%
$150,000 To $200,000:
7%
$200,000 To $300,000:
11%
$300,000 To $500,000:
44%
Above $500,000:
25%

Year Built:
1999 & 2000:
7%
1995 & 1998:
1%
1990 & 1994:
0%
1980 & 1989:
9%
1970 & 1979:
22%
1900 & 1969:
61%
Directions to Travis Heights
Travis Heights is bordered by the North by Riverside Drive, the South by Oltorf, the West by Congress and the East by Interstate 35.
Schools Serving Travis Heights
Travis Heights is served by:
Travis Heights Elementary
Fulmore Middle School
William B Travis High School.